A Message of Thanksgiving Count Your Blessings and Your Challenges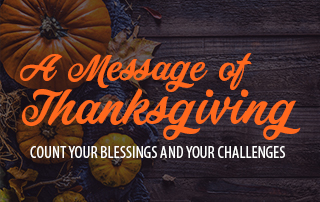 It's no secret that this time of year is my most favorite time of year – an entire season, a celebration really, dedicated to giving thanks. It's the one time of year that we highlight where we can all come together with an attitude of gratitude – and I can't think of anything our world needs more right now than that.
 But being thankful isn't just about reflecting on our blessings. Sure, we should celebrate the good things in our lives, no matter how small, but you can't be truly thankful for what you have today without also giving thanks for the obstacles and challenges you encountered along the way. Let me explain…
 The ACN you know and love today looked very different 26 years ago. We had some rough days, weeks, even years to get us to this point. We made mistakes, some small and some not so small. But you know what? The other Founders and I wouldn't change any of it. In fact, we're thankful for these times. Because it's those rough days that led us to this moment – on the cusp of what promises to be our most incredible season ever. So this season, and all year long, I'm thankful for the rough days – because we wouldn't be who we are today without them.
 What about you? You too are on your own personal journey in ACN. What does it look like today? Maybe you're right where you want to be. Maybe you aren't even close. Maybe you've faced more bad times than good, more rough times than easy. If so, count your blessings.
For it's during these times that true strength of character is shown. That's the sweet spot; where superstars are born and the average are weeded out from the winners. Nothing worth truly having comes easy, and success is often just on the other side of hardship.
 So not only on this Thanksgiving, but every day, I hope you'll give thanks for where you are and where you have the opportunity to go thanks to ACN. And more importantly, I hope you'll give thanks for the challenges too, because it's the challenges that make it all truly worthwhile.
 On behalf of the other Co-Founders and all of us at ACN, Happy Thanksgiving. Have a blessed holiday!
 Greg
#ACNNextGen
---
Share this:
---
---